PINEWOOD DERBY CAR SHOWCASE
Let's kick off the new season with some very unique cars that were submitted at the end of last season.
'56 Ford Pickups - Lyle and Ben Leis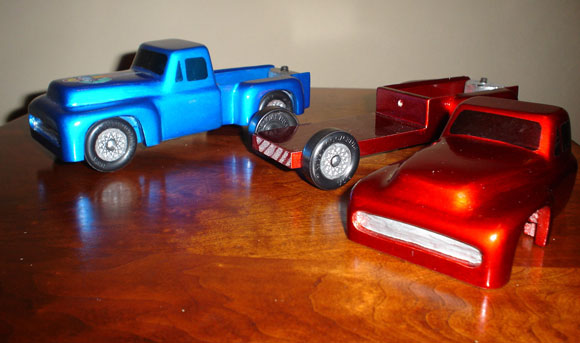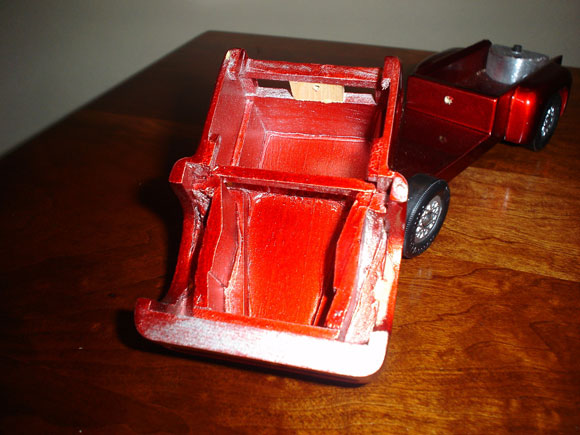 2009 was the last year for my son to compete in the Pinewood Derby. He has done well in the past with a variety of cars, but for his last year, he wanted to build a pickup truck. We bought a '56 Ford Step side die cast car to copy and scratch built from there. Since we only had two weeks to get them completed, it was an ambitious project.
In the past, I have built several exhibition cars while my son built more conventional cars. Using the profile of the die cast car, we started with a sketch of the top and side view of the car using the Boy Scout wheelbase and overall dimensional requirements. Since this project required a hollow body and woodcarving skills, we each built a truck with me working step by step ahead of my son while he followed/copied my work on his truck. The original Pinewood block was cut down to 3/8 inch thick and thin pine stock was added to form the bed and truck cab. The panels were carved and sanded to final shape followed by many coats of primer with sanding between. Since the colors are transparent, a silver base coat was used under the transparent top coats. The hollow lead tanks in the rear of the beds are formed from stick on wheel weights and final weight adjustment was made using lead shot. A wood screw between the truck bed and the cab secures the cab to the chassis.
Although the truck didn't do well in the race due to aerodynamic considerations, for the first time my son has taken an interest in woodcarving, so I consider it a huge success. His truck also won a trophy for the Most Unique design, although the judges were probably not aware of the hollow cab and woodcarving required for the build.
The first photo shows the cab off and the second shows the underside of the cab and how it was scratch built from pieces of pine before final shaping and painting. My son's truck is blue and mine is red.
Monster High - Damon and Addison Krall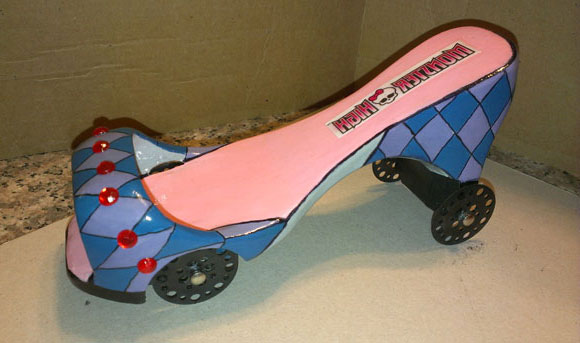 This Monster High-heeled Shoe car was built for fun for my daughter Addison to beat all the boys at her brother's derby on race day. The speedy razor wheels gave this car a nice boost. The unique design got
lots of attention.
Landspeeder - Dennis Bjorn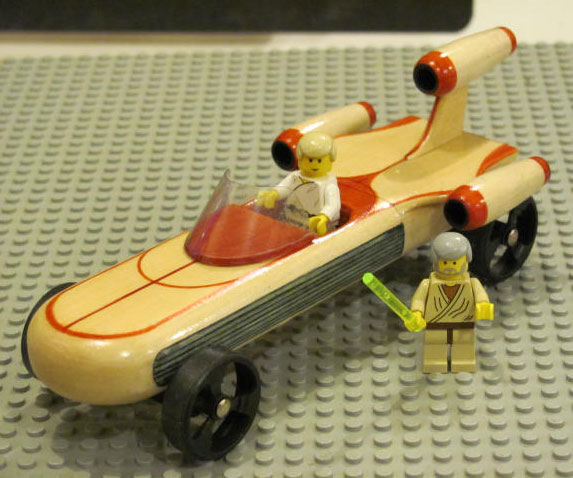 While sorting through my adult son's Legos I found the instructions for a Lego version of Luke Skywalker's Landspeeder. After consulting with Obi Wan and Luke we decided my speeder could only have one seat, so it wouldn't interfere with the cars in the other lanes. Obi Wan found a guy that could machine the three-spoke wheels.
From Pinewood Derby Times Volume 14, Issue 1
Subscribe to this Free Pinewood Derby E-newsletter
(C)2014, Maximum Velocity, Inc. All rights reserved
Maximum Velocity Pinewood Derby Car Plans and Supplies