PINEWOOD DERBY CAR SHOWCASE
The Natural - Mark & Will Osbourne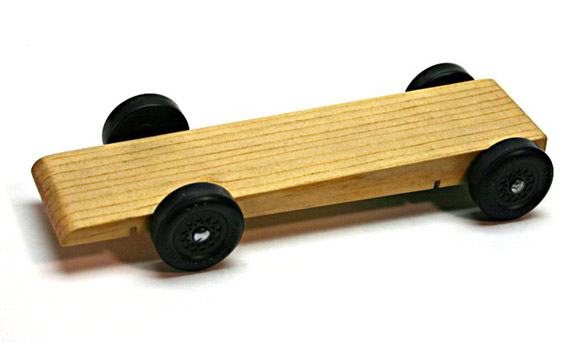 My son Will is in his third year of Cub Scouts and really loves working on his pinewood derby cars. Shown is "The Natural", his car from the 2007 season. After I cut the block down to the thin wedge that he wanted, he sanded off the saw marks and found that the straight grain lines were quite striking. So, instead of paint, he opted to just clear coat the car. The car took third place in the pack pinewood derby and thus qualified for the district races (his third trip). The night before districts I added more graphite and he worked it in and we must have gotten it right. At districts (where there were 118 entrants) he beat his pack mates in the first round and then got faster and faster, eventually moving to seventh place overall and fastest Bear Vub Scout.
Clothes Pin - Tom Bybee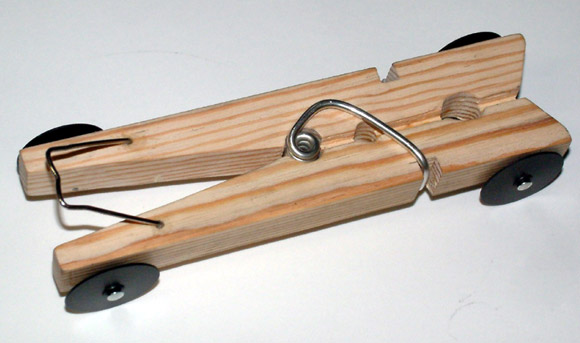 I am the Cubmaster for our pack and, due to some very successful recruiting last year, we had about 20 boys who built their first pinewood derby car this year. To make sure everyone had a chance, we provided a hands-on seminar where experienced leaders provided tools and showed the boys tips and techniques to build faster cars. Since I noticed that all the boys designed cars that looked like typical racing cars, I was determined to build something different for our open class to show them that pinewood racers can be anything. This clothes pin car is what I came up with. Our open class has fewer restrictions and is mainly for Dads so they will let their Scout build his own car. The wire bail on the front rests on the starting pin and is set high to allow it to take off sooner than other cars. This technique combined with your outlaw wheels made this a very fast car -- second place was three car lengths back. It had the added benefit of not needing to be painted. It got a lot of comments from the boys and will hopefully spark their imaginations for next year.
Mater - Mike & Mikey Ferraro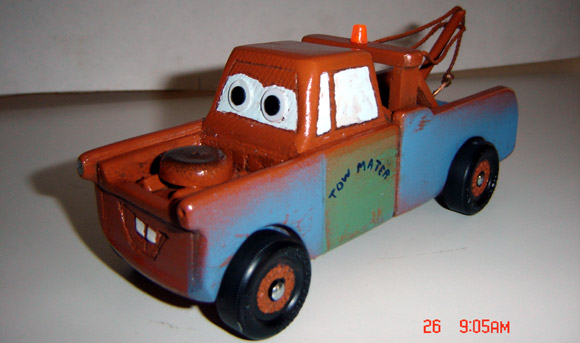 This year my son and I built this "Mater Truck" using supplies from your site and received a trophy for most original. Thanks once again for all your tips and advice.
From Pinewood Derby Times Volume 7, Issue 1
Subscribe to this Free Pinewood Derby E-newsletter
(C)2013, Maximum Velocity, Inc. All rights reserved.
Maximum Velocity Pinewood Derby Car Plans and Supplies