02

03 04 05 15 16 19 20 21 22 23 24 25 26 27 28 31 32 33
34

Revell Enters the Pinewood Derby Market



As many of you have heard through the pinewood derby forums, BSA has teamed up with Revell to offer their pinewood derby products in hobby and craft stores. In our area, Michael's Crafts and Hobby Bench are offering the Revell line (Michael's is only offering Revell), while Hobby Lobby and others continue to only offer PineCar.

Recently, my wife and I took a stroll into Michael's to check out the Revell offering. The Revell rack contained slots for all colors of the BSA pinewood derby wheels, several tools, blocks and pre-cut kits. At the time of our visit, all but one set of wheels (a blue set) were gone (a typical hobby shop problem during pinewood derby season), and much of the rest of the inventory was well picked over. But we were able to buy several items to share with you. If you would like to see
the full Revell offering, you can visit: www.revell.com

One thing that stood out to me was how every item, including decals, has the Revell logo. Clearly, this marketing partnership has been in the works for quite some time.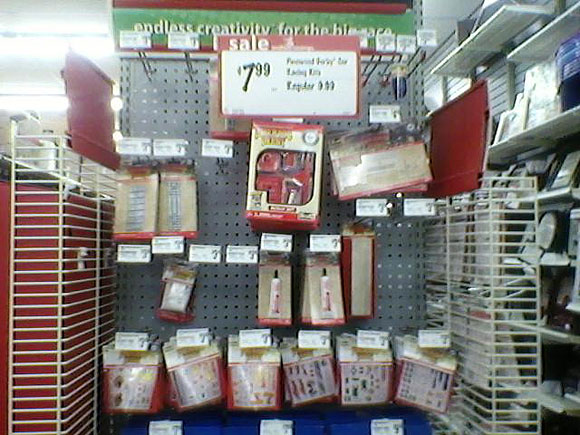 (Sorry for the poor quality - photo was taken with a phone camera)



Wheels/Axles



The wheels in the Revell packaging are the new BSA pinewood derby wheels. The axles are the standard BSA nail axle. The same tube packaging is used, but with the Revell label and a BSA hologram.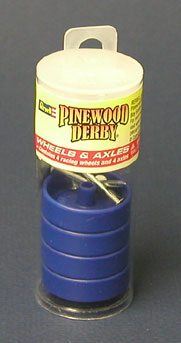 In an axle polishing kit (600 grit sandpaper and pumice) are included four axles without burrs or crimp marks. Although the axles are similar in dimensions to the official nail, the axle heads do not exactly replicate the head of BSA nails. But wait a minute - since there are no burrs or crimp marks why would I use 600 grit paper and pumice? I'd just go straight to a metal polish. A little more thought
is needed here.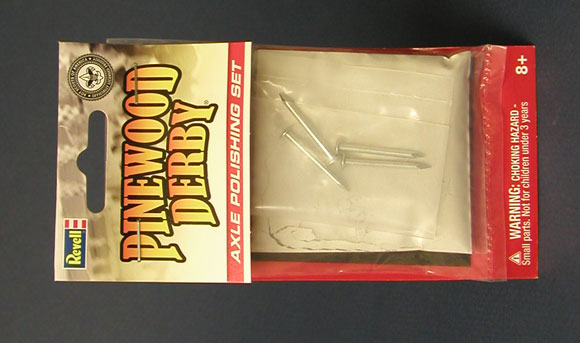 Tools



The Revell rack has slots for a wheel mandrel, a balance scale, a saw and an alignment tool. Most of these were out of stock, but we did find a knock off of the PineCar Alignment tool, complete with the seven checks. The one improvement in this tool is that the gap gauge is not on an easily breakable arm like it is on the PineCar version.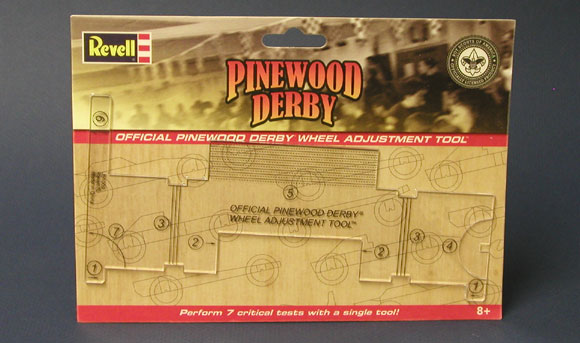 Lube



What graphite is BSA/Revell pushing? It is a Revell-branded graphite with a consistency very similar to Tube-O-Lube. It looks like they are not offering the white powder; one can only hope that they have stopped selling that terrible product.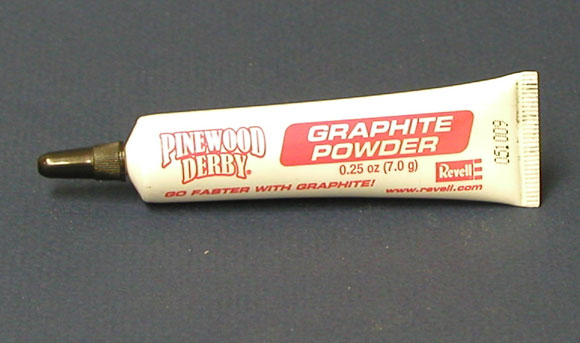 Blocks/Kits



We purchased a slotted block and pre-cut kit. The slotted block is a poor replacement for the official block, and may not meet regulations at every pack. The slots are offset forward about 1/16 inch, are too narrow, and poorly cut -- not to mention, the block is imported from China (as is most if not all of the Revell offering).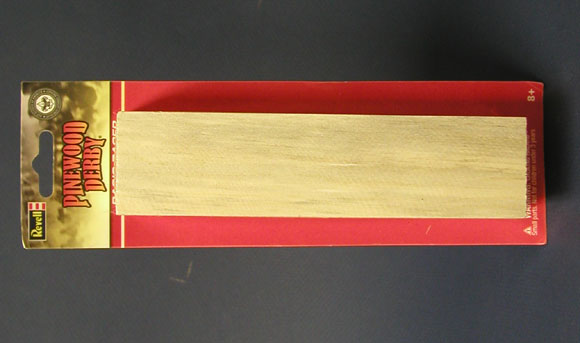 The kit has official wheels and axles, a zinc plate weight, decals, etc. The "motor" parts are plastic, which in my opinion is better than the zinc parts offered by PineCar, as the plastic parts won't interfere with setting a proper balance point. But again, the wood leaves quite a bit to be desired. The slots are reversed from proper positioning, are too narrow, and slightly crooked. On many of the pre-cut kits (not the one in the photo), the axle strut is cut so narrow, that it would likely break when an axle was inserted.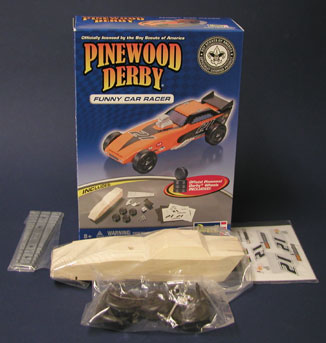 Conclusion



Regardless of the problems mentioned (and the likely problems at car inspections from Revell branded products), overall it is good to give PineCar some competition, and to have BSA wheels and axles available at retail stores.

Read More at: Pinewood Derby Times Volume 9, Issue 12

A feature article is a regular part of the Pinewood Derby Times Newsletter. To subscribe to this free e-newsletter, please visit:
www.maximum-velocity.com/subscribe.htm

(C)2010, Maximum Velocity, Inc. All rights reserved.
www.maximum-velocity.com 35 36 37 38