PINEWOOD DERBY CAR SHOWCASE
F-15 - Philip & Joshua Huffman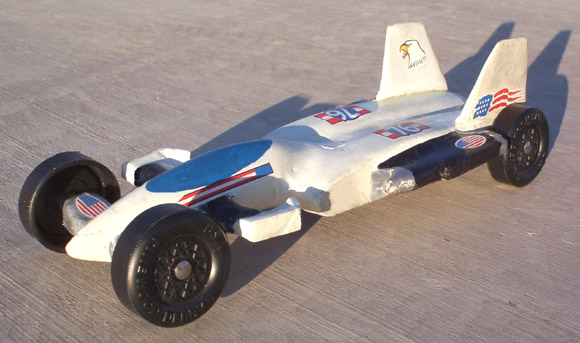 Our family made four cars this year, three of which were entered in the outlaw division and came in the top 10. My son Joshua's F-15 car was the only one entered in the scout race. His car was our test bed for using the full range of Pro-Tools and other supplies. The results? Joshua won first in pack, first in district, and first in council! Moreover, on every run he set a new track record. We're making plans now for our 2006 entries. Wish us luck!

The Iguana - Brenda & Alex Wight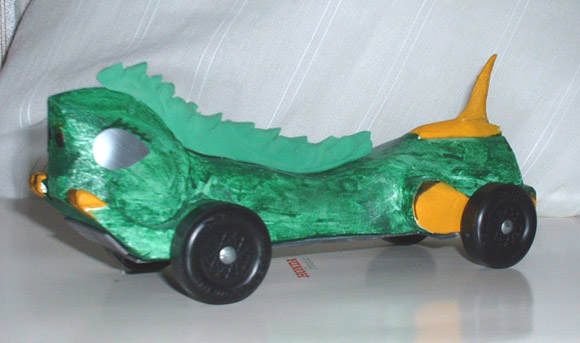 Alex wanted his car to stand out this year; and it certainly did! First, he did as he's done the past few years; he looked on your web site for some inspiration. Alex said he wanted to go in a different direction from the usual, when he spotted a car that resembled a reptile. With a bit of brainstorming, he began his drawings of what was to become "The Iguana."
Alex presented his rough drawings to his pack leader - a lady that has taken on 12 active boys, and is married to a guy that's as handy with power tools as she is in handling her pack of scouts. He chiseled the block of wood under the careful scrutiny of my son, into the stream lined drawing Alex had sketched onto paper.
With his iguana in the rough, Alex sanded, sanded and then sanded some more. He brush painted layers of just the right green, layered some darker greens to give it the illusion of reptile skin, and decided to go with bright yellow feet, legs and tail. The jagged back was formed out of modeling clay, snipped with scissors, and glued into place.
The Iguana Car, although sleek in design, wasn't much of a racer. One could say it was built for looks, not for speed. It traveled well down the track - even when placed backwards - and came in second during a three race heat, but just didn't make the cut. Not placing in the race didn't seem to bother Alex in the least. After all, it's the excitement of the design that thrills him. I can't wait to see what he'll come up with this year!
From Pinewood Derby Times Volume 5, Issue 7
Subscribe to this Free Pinewood Derby E-newsletter
(C)2012, Maximum Velocity, Inc. All rights reserved.
Maximum Velocity Pinewood Derby Car Plans and Supplies