PINEWOOD DERBY CAR SHOWCASE
Cobra - Jim White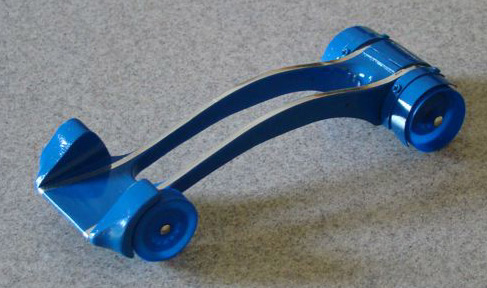 My grandson, Aaron Shain, and I built this car that we named "Cobra"
for the 2012/2013 racing season. We hope the front and rear fenders
produce favorable air flow and high speeds.
Street Rod - Jim White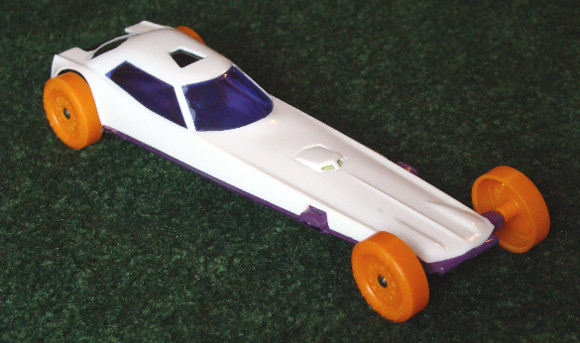 My grandson and I built this car to compete in the "Street Rod" class
of a Pinewood Derby Racing League. The basic car is a stretched wedge
shaped car, and the body shell is from a 1 to 25 scale AMT model kit.
Following the rules for the "Street Rod" class, the car is 9 inches
long and weighs 6 ounces. There are two sets of front axle mounting
holes to allow for shortening the wheel base. In our first race the
car ran in the middle of the pack for times, but it sure was an eye
catcher.
Corkscrew - Wess Eslinger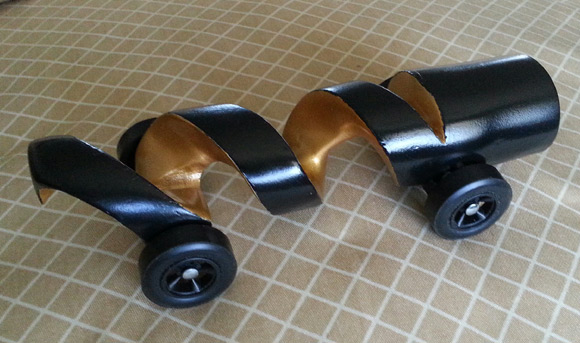 The Corkscrew is completely impractical (the only place to put weight
is behind the rear wheels) but I thought it would be funny. I had the
idea several years ago, but didn't think I could actually make it. But
this last summer I got bored on a Saturday morning, and decided to
give it a try. It was easier than I thought to get the basic shape,
but because I thought I would ruin it, I had used a really awful block
of wood that I was going to throw away. So, it took a lot longer than
I would have liked to get it looking even respectfully smooth. The
gold paint was also tricky to get right. Since I spent a LOT more
time on this than I ever anticipated, I hope it will get some laughs
at our next race.
From Pinewood Derby Times Volume 12, Issue 8
Subscribe to this Free Pinewood Derby E-newsletter
(C)2013, Maximum Velocity, Inc. All rights reserved.
Maximum Velocity Pinewood Derby Car Plans and Supplies