PINEWOOD DERBY CAR SHOWCASE
Road Hog - Chuck & Ryan Williams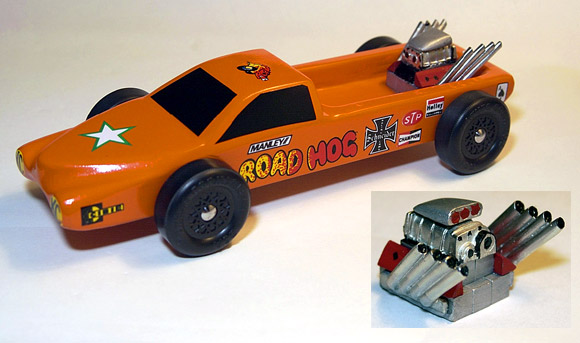 My son Ryan and I built this truck last year when he was a Wolf scout. This is a modified version of the truck plan that you were giving out for subscribing to the e-mail newsletter. Ryan loved the idea of building a truck instead of a car because we had gone to see a monster truck show recently. So, we started with the basic truck and carved out an 'Old style' front end, kind of like the Grave Digger monster truck. Then we were trying to decide on how to weight the truck and started stacking some tungsten in the bed but it looked kind of plain. We just happened to have some engine parts left over from the year before, and they made the perfect fit to create a 'Tungsten Hemi' for our little truck. The look was perfect! Ryan was elated, and it was a hit at the race - it even runs as good as it looks. Ryan finished 1st in his den, 2nd in the pack of 63 boys, and 9th at the district race out of 120 cars! I was proud of Ryan, and was happy just to see him so excited, the winning was nice, but we had a great time just designing the truck and then building it.
Jedi Knight - Rob & Robby Roper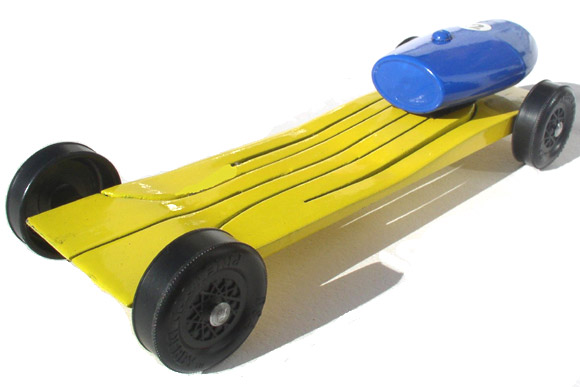 The Jedi Knight is an extended wheelbase Flex design with H-Wheels and speed axles. The blue container is actually a small plastic pencil sharpener with the cutter removed to hold the weight. This car was built by my 9 year old son, Robby. It won two pinewood derbies: his own Cub Scout 2005 Pinewood Derby and the following week he was a guest at another, larger pack's derby! The Flex design was perfect for our hand made wooden track. The surfaces were always rough, but had warped over the years and the joints didn't line up well. Other cars making the run made loud "clack-clack" sounds as they traversed the joints, but the Flex design seemed to glide almost noiselessly over the rough spots.
From Pinewood Derby Times Volume 5, Issue 8
Subscribe to this Free Pinewood Derby E-newsletter
(C)2013, Maximum Velocity, Inc. All rights reserved.
Maximum Velocity Pinewood Derby Car Plans and Supplies