PINEWOOD DERBY CAR SHOWCASE
Twin Cars - Dave Kaczenski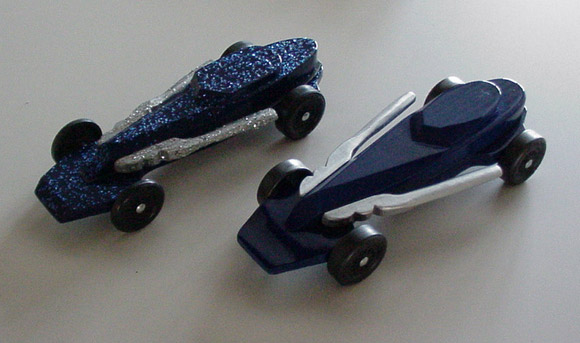 These car were built by my children, Ed and Sarah Kaczenski, and they had a lot of fun making them. Their cars ended up in the top of his or her class, and to date all of Dad's cars have lost to Ed and Sarah.
Jeff Gordon Truck - Patrick Henderson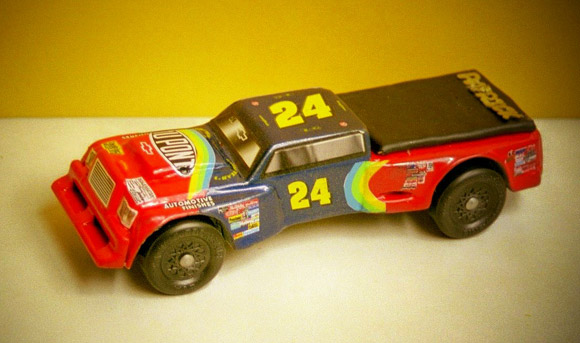 I am Patrick Henderson, and I am in Cub Scout Pack 124 in Indianapolis, Indiana. I am Jeff Gordon's #1 fan so my dad and me made a Jeff Gordon Truck to race in the Pinewood Derby.
I got the decals at an Indy 500 race car show for a dollar. The man said the decals were in the wrong bin and worth more, but he let me have them for a dollar anyway. All the people there were nice and some of them gave me free Jeff Gordon stuff.
Dad and I started with the block of wood and cut it to the truck shape. I sanded it down and added fenders and the front piece to the truck. I painted the car part red and part blue to look like Jeff Gordon colors. Dad showed me how to put on the decals. I looked at one of my Jeff Gordon cars and put the decals on my truck. My dad's real truck has a cover on the back and I wanted one on my Jeff Gordon truck. I made a cover for my truck from part of an old glove and glued the Patrick on it.
Dad showed me how to straighten and polish the axles using a drill and supplies we got from your store. It took me a long time to do the axles and my fingers got sort of tired, but they were real shiny when I got done. I put graphite on the axles and tires to make them spin really fast.
I had fun making and racing my car, and showing my car to all my Cub Scout friends. I finished third in my pack and won the Webelos at our district race and I got a trophy and two medals.
We showed my Jeff Gordon truck at the Cub Scout "Race into Scouting" show at the Indianapolis 500 this year. Everybody thought it was pretty cool. I am making a Jeff Gordon Billion Dollar car for the pinewood derby this year.
Lizard - Jeffrey & Chris Corron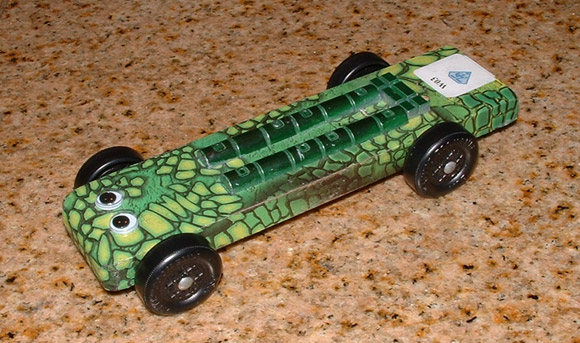 This is Jeffrey's car from last year. He chose a simple design that was easy to make. The body is a flat 1/2 inch thick plank. The body was thick enough to allow us to inlay a plate of zinc weights in the bottom of the car but not so thick to cause a great deal of wind resistance. He used a Gator Body Skin and painted the weights on top green to make them look like scales. The eyes were the finishing touch. The car ran fast; Jeffrey won the overall district championship. Often, the simplest designs are the best.
From Pinewood Derby Times Volume 5, Issue 9
Subscribe to this Free Pinewood Derby E-newsletter
(C)2013, Maximum Velocity, Inc. All rights reserved.
Maximum Velocity Pinewood Derby Car Plans and Supplies