PINEWOOD DERBY CAR SHOWCASE
Blue Lightning - Lee Klinghoffer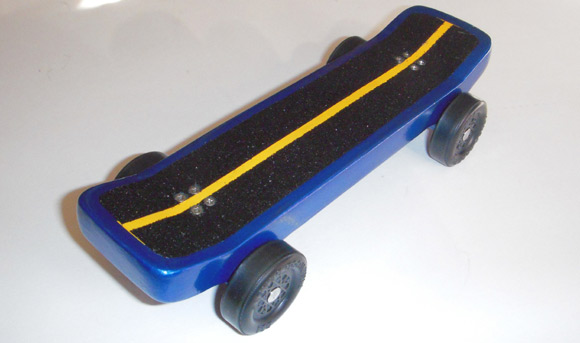 This is my daughter Jenna's skateboard car, called "Blue Lightning",
which raced in the open category. It weighed in at 13.2 ounces! Some
nice touches were the consistency of the team paint scheme, black
glitter grip tape, and real screws for the trucks. She took 2nd place
in the open.
Maserati GranTurismo - Lee Klinghoffer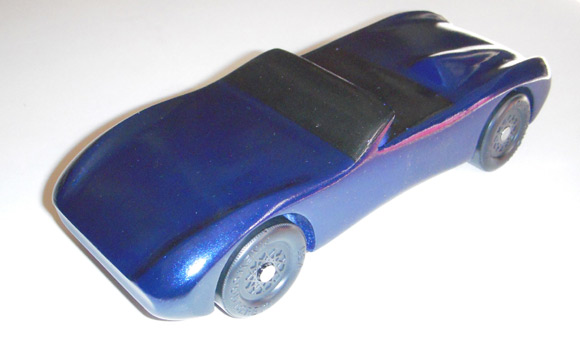 I was inspired by a Maserati GranTurismo convertible and made some
minor design tweaks. Paint job was a 3-level Tamiya primer, purple,
then deep blue metallic to achieve the cobalt blue effect. It weighed
in at 22.3 ounces in our open race! I took first place. Great, great
fun.

Batmobile - Dennis Wang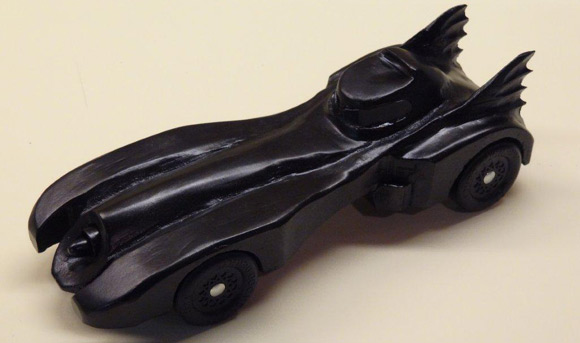 This year my Wolf scout wanted to build the Batmobile. We did some
research for some images, and he ended up picking the design from the
first two motion pictures. We used Microsoft Visio to create templates
from the top and side views. We glued our templates to do the major
shaping. The rest of the shaping was done with a Dremel tool and
Rotozip sander. We took clear plastic, spray painted one side with
black spray paint and then inlaid it to the cockpit which was carved
out with the Dremel. We took first in design, and we're heading to
District in March.
Lego Indy - Dennis Wang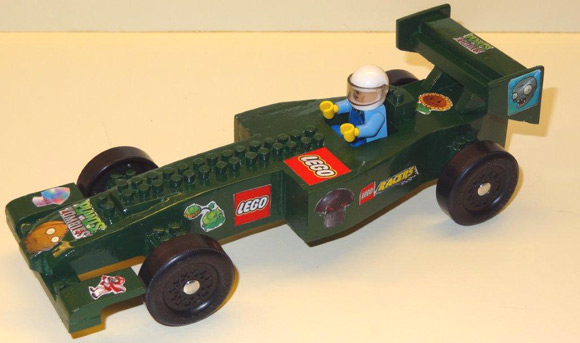 Our pack runs a sibling race and my soon to be Tiger scout wanted to
build a Lego race car. He eventually settled on an Indy car. We used
Microsoft Visio to create the top and side view templates and a scroll
saw to shape our standard BSA block. Visio helped us keep the blocks
to scale. We used 1/8 inch dowels as the peg portion of the Legos.
When the car was done, it didn't look complete. So we decided to put
sponsor stickers. Since Mason is really into "Plants vs Zombies", we
used images we found on-line to decorate the car. The car took first
in design in the parent/sibling race.
From Pinewood Derby Times Volume 12, Issue 13
Subscribe to this Free Pinewood Derby E-newsletter
(C)2013, Maximum Velocity, Inc. All rights reserved.
Maximum Velocity Pinewood Derby Car Plans and Supplies