PINEWOOD DERBY CAR SHOWCASE
Mean Green Machine - Bob Babich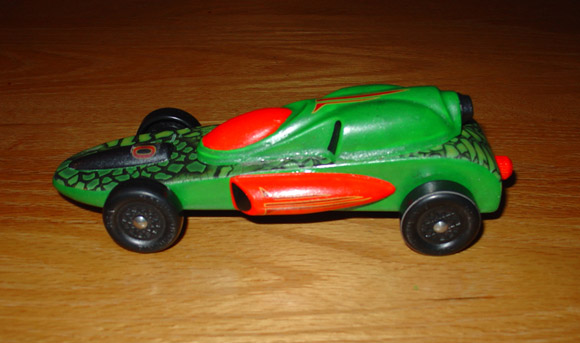 Here is a picture of my son's car from 2005. Robby did a lot of the work himself with my guidance. His goal was to have a cool design (he designed the car) and he wanted to use a skin along with paint. At the end of the day, he finished second in his den and second in the Pack. Yes, the boys car that won our den, won the pack. Actually, places 1 - 6 in our Pack came from our Den and we had over 100 cars in the PWD race. Pretty competitive Den to say the least. Robby lost to a car that set 3 track records in 4 heats and still only lost by a few thousandths of a second. At the end of the day, my son was happy, and said, "Dad, next year I want to WIN."
Flintstone Coupe - Scott Wheeler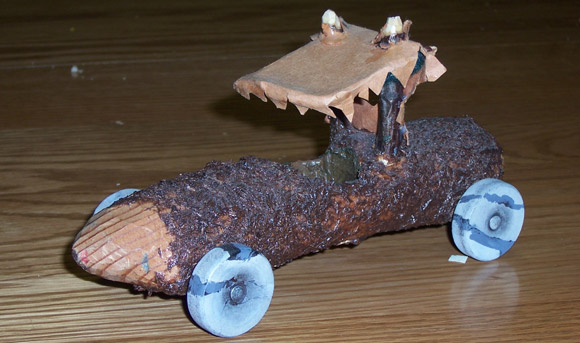 I make a pace car every year for my pack. One year a mom told me that her son could not make a car because she didn't have a saw. So prior to handing out all of the kits I took a kit and just carved on it with my scout knife. I shaved off all of the corners and pointed it like you sharpen a pencil. I then took a hand drill and drilled a few holes. I prepared a mixture of wood shavings and white glue and wiped it all over the car to make it look like bark. Then I went into the back yard and pulled a twig off of the tree to make the canopy. A small piece of brown construction paper cut with scissors and glued to the canopy frame made the covering.
The wheels are standard BSA that have just been sanded down until all of the design is gone. I then painted them to look like stones with different shades of flat gray model paint.
After I showed it to the mother she said that maybe he could build one after all. Her son got some help from a neighbor and he did real well in the race if I correctly recall.
Dollar Car - Kevin & Kyle White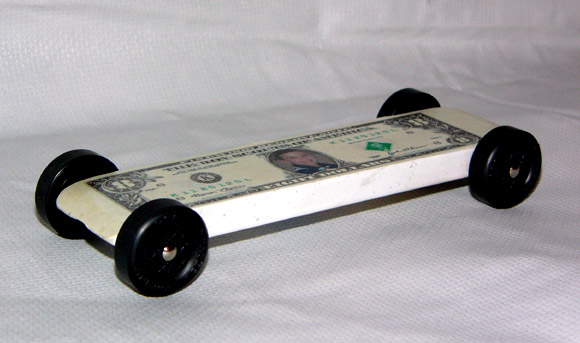 My son had always wanted to build a 'dollar' car,' so we needed a flat car design to make it look like he wanted. We designed the dollar bill - which included his name and age - and we wanted the wheels to block the design as little as possible. The Extended Wing kit was perfect for the task, and it went together easily and quickly. The tungsten weights were a must to get the weight toward the rear. How did it do? It never lost a race
From Pinewood Derby Times Volume 5, Issue 10
Subscribe to this Free Pinewood Derby E-newsletter
(C)2013, Maximum Velocity, Inc. All rights reserved.
Maximum Velocity Pinewood Derby Car Plans and Supplies