PINEWOOD DERBY CAR SHOWCASE
'32 Ford Coupe - Bob Davis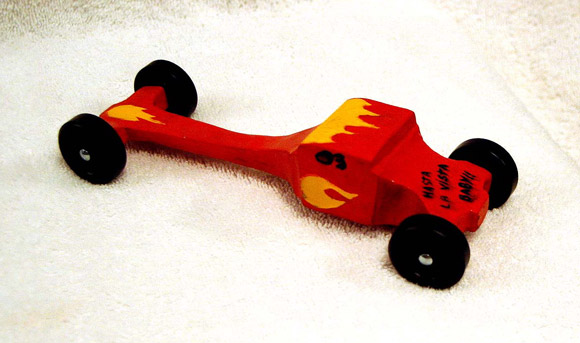 This is a picture of my son's second pinewood derby car. It is loosely based on a '32 Ford coupe body with a dragster look to it. Everything was hand painted by my son (I masked off a pattern for him to follow). Every car we build has a funny saying on the back, so - since Alex is a Terminator fan - I painted "Hasta La Vista Baby" on it. We spent many hours cutting, sanding, polishing, etc. on it.
Although it didn't take first place, it did finish 4th out of twenty cars. Given our enjoyable experience over the years, he is already excited about building another car for this year's derby.
Silver Lightning - Trevor Colvin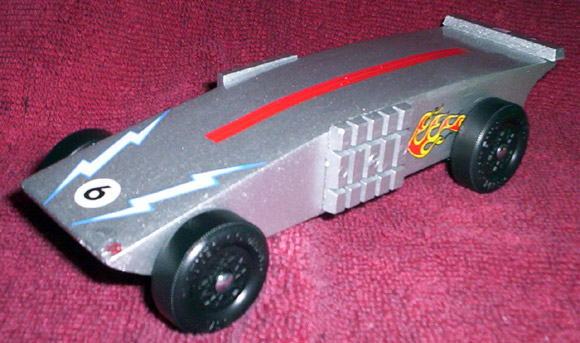 My name is Trevor Colvin. I am in Pack 28 Den 1 in Denair, California. I applied several coats of metallic silver paint and clear acrylic. I used dry transfers for the flames, stripe and the lightning bolts on her nose. The number 6 is for my favorite NASCAR driver Mark Martin. I put the weights on the side for stability. I seem to get better speed from this too.
iPod Racer - Jeff & Nicholas Lafrenz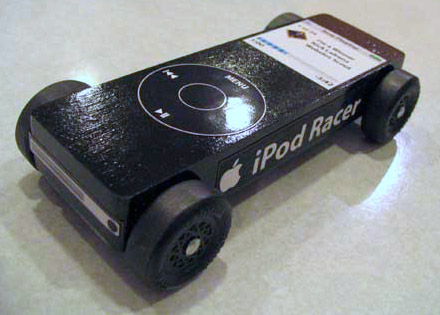 Here is my son's pinewood derby car for this year. He wanted to have an iPod, so, that is what we did. He placed second in his class and fifth overall. The 'screen' of the iPod has the Webelos logo, my son's name, etc. I created all of the graphics from scratch in Adobe Illustrator and printed them out on photo paper. While I did the major cutting on the car, he sanded, painted and glued on the stickers. The wheels are sanded, axles de-burred and polished with plenty of graphite.
From Pinewood Derby Times Volume 5, Issue 12
Subscribe to this Free Pinewood Derby E-newsletter
(C)2013, Maximum Velocity, Inc. All rights reserved.
Maximum Velocity Pinewood Derby Car Plans and Supplies