PINEWOOD DERBY CAR SHOWCASE
The Finger - Frank & Keith Tonra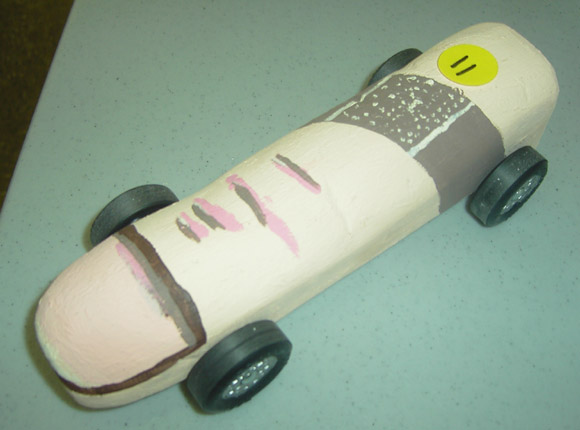 My son Keith (Wolf) and his older brother Frankie (Webelo 2) started to think about their car months before the derby (like the day after the last one). Keith wanted to do a black hearse with skulls and look scary cool, and Frankie wanted a 3D Frankenstein car and to win it all. But when we talked about the car's looks versus speed, things changed. Keith's car would be big and bulky like the hot dog last year so he wanted a nose, so he could 'win by a nose'. The nose as a wedge car seemed like a good idea but proved to be hard to shape, and still look like a nose. So, the Finger car was born. Frankie settled on speed over looks, and made a lightning bolt wedge car that took second in his den and strangest shape in the pack. Keith's Finger Car came in second for Fan Favorite, won Most Humorous Car and finished forth by ten thousands of a seconds. The boys had a great time, were proud of the cars and are already at work on their next cars.
Cool Flag - Scott & Taylor Morris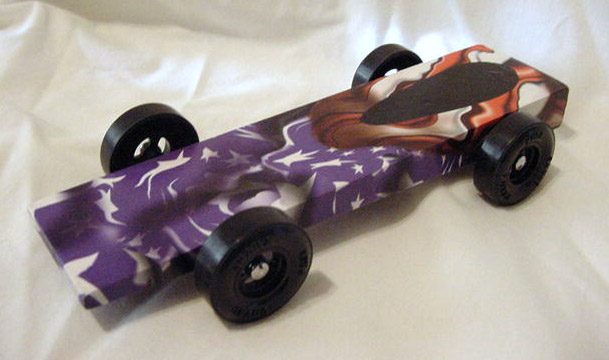 Here is my daughter Taylor's Awana Grand Prix car from this year. Taylor designed her car and did most of the work herself - other than the power saw work. We used many of the ideas and techniques found on Maximum Velocity in building the wedge car for speed. Taylor wanted the car to be stylish too, so she opted for the Freedom Flag body skin. Taylor's car didn't lose one heat and took 1st Place for speed, and got lots of attention for the "cool flag". She has already started designing next year's car.
Solar Car - Anton & Andrew Petrou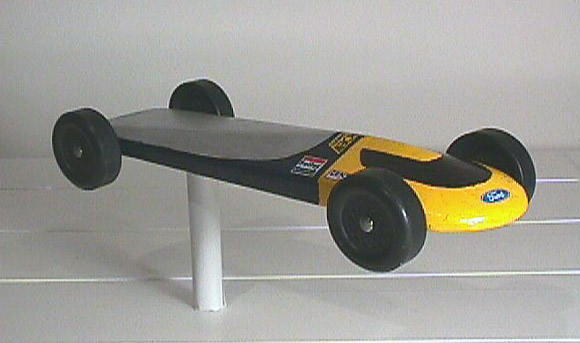 The car you see here was inspired by the University of Michigan's solar race car, which we saw on display during a visit to the Chicago Museum of Science and Industry. Using this as an inspiration, we went to Michigan's web site and learned about how they minimized wheel friction, rolling resistance and aerodynamic drag. Sound familiar? This ended up being the perfect way to teach my son about the physics of a well designed pinewood derby car.
There was, however, a real challenge, which was how do you get enough weight in such a thin tail and still achieve an optimum balance point. We ended up sawing the shape of the car, and used the body to form a sand casting mold. All the materials needed were a bucket and some moist playground sand. To keep things safe, I melted the lead and poured it into the mold, and all of this was done outdoors. Once cooled, the lead was virtually the same shape as the back of the car. All we had to do was cut off the of the car equivalent to the length of the molded lead and then epoxy it to the back. All it needed was some wood putty, paint, and voila, a Solar Car is born. The side view says it all, since the car is in no way attached to the white post, instead it is balanced on top of it!
We worked hard on building the Solar Car, and at the Pack Derby it won all 15 races and ended up finishing 1st in the Pack. To this day, I think this particular experience continues to motivate my son towards a career in engineering - just like Mom and Dad.
From Pinewood Derby Times Volume 5, Issue 14
Subscribe to this Free Pinewood Derby E-newsletter
(C)2013, Maximum Velocity, Inc. All rights reserved.
Maximum Velocity Pinewood Derby Car Plans and Supplies