PINEWOOD DERBY CAR SHOWCASE
Thrasher - Dave & DJ DeFelice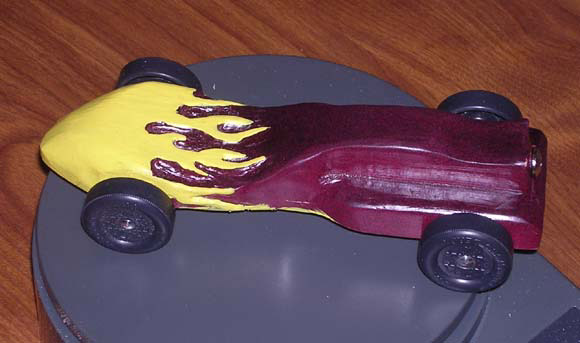 This is my son DJ's car. He is 7 years-old, and a Wolf in Pack 196 in Milford, Connecticut. I cut the shape out on my band saw, and helped him carve out the flame design with a Dremel tool. DJ sanded the car, and then I painted the burgundy and black and DJ painted the yellow flames. He then polished the axles and added the weights.
Yoshi - Jim Mason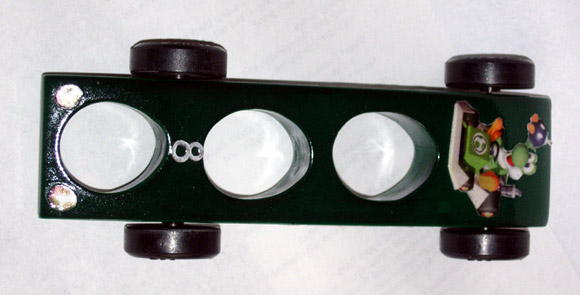 My Bear Cub wanted something different this year, while still wanting to produce a fast car. He decided to use a Yoshi theme (the character from Nintendo's Super Mario Kart, a video game we've tackled together), but he said he still wanted his car to be different. After browsing the Internet, as I'm sure many dads do, I borrowed the cut hole design in the body and suggested we modify the design to make our holes to have an egg shape, because Yoshi throws eggs in the game.
We painted it green, pasted on some photos of Yoshi and were off to the races. We took first in the pack, setting a new track record, and took third overall in our district race. (The tungsten cylinders and axle polishing kit are a must have for any serious racers. Plus, the Pro-Axle Guide was a huge hit in my pack and with several leaders at the district race. I can't say enough about it other than it's another must have.
Blue Venom - Larry Cox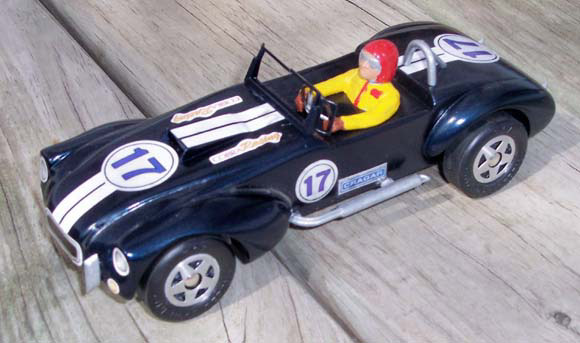 This is a Dad's car we built this year. We used a PineCar kit with your matched BSA wheels and axles. The paint is Dupicolor and we used the kit decals. It looks good, but I lost to my son in the open class!
From Pinewood Derby Times Volume 6, Issue 1
Subscribe to this Free Pinewood Derby E-newsletter
(C)2013, Maximum Velocity, Inc. All rights reserved.
Maximum Velocity Pinewood Derby Car Plans and Supplies