PINEWOOD DERBY CAR SHOWCASE
Chopper - Scott Morris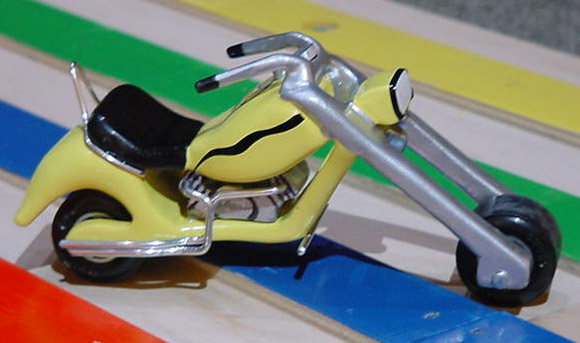 This chopper car was built by Doug Kile. He carved the chopper from two Awana Grand Prix blocks glued together. The chopper didn't run the track very well, as it kept falling over. But all the clubbers and parents thought the design was really cool!!! It just goes to show you, no design is impossible if you use your imagination.

Lego Fire Engine - Denise Kelly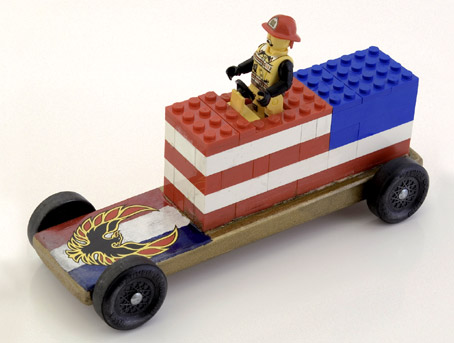 My son Brendan was very interested in Legos in 2002. Since 9/11 had just occurred and was such an important event, he found a way to represent the time, depict some patriotism, and also to honor the firefighters. By the way, the car fit all the specs for our race and was fast enough to move on to district.
Big Tahuna - Linda & Alex Duncan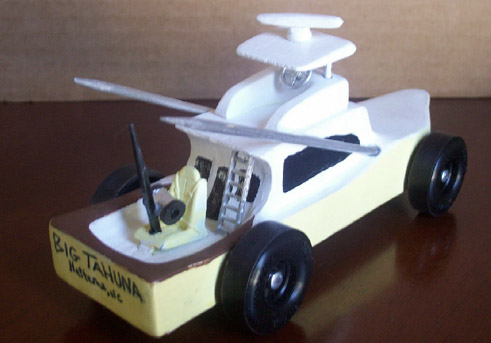 This is my son Alex's car for this year's Awana Grand Prix. Although he builds his Cub Scout cars each year for speed, he wanted to try an interesting design for the Awana race. He designed the car based on the sport fishing boat we charter in Hatteras, North Carolina every summer - the 'Big Tahuna.' It was the first time we used a Dremel rotary tool to shape the car, and it worked great for this design. His car won 1st Place for design in his division.
From Pinewood Derby Times Volume 6, Issue 3
Subscribe to this Free Pinewood Derby E-newsletter
(C)2013, Maximum Velocity, Inc. All rights reserved.
Maximum Velocity Pinewood Derby Car Plans and Supplies