Xtreme Kidz - Keith & Joseph Wengerd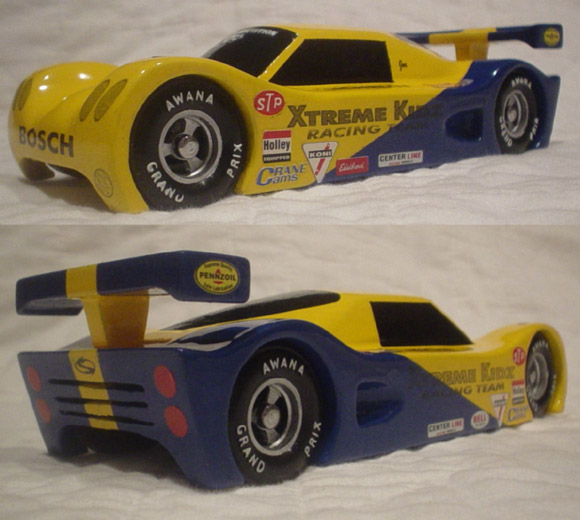 My eight year old son and I built this car for our church Awana Grand Prix. We also had in mind to submit it to the 2006 Lowes/Dremel Derby Design Contest. We were successful on both fronts; he came in 3rd place out of 60 cars at the race and made it into the top 20 of the Lowes/Dremel contest. The Lowes/Dremel contest netted us an electric dremel unit, a cordless unit, a bunch of bits and a very good quality diecast Nascar model. The amazing thing with this car is that one week to the day before the race and deadline for Lowes/Dremel, I put the final coat of clear over the decals and other paint (thirteenth coat of paint overall) and everything bubbled! We ran it in a trial race that night then came home and sprayed it with stripper and took it right back to the bare wood. The process began again, and finished on the eve of the due date for Lowes/Dremel. Apparently it was meant to be because the second round of paint turned out better than the first!

Suspense - Butch Weathers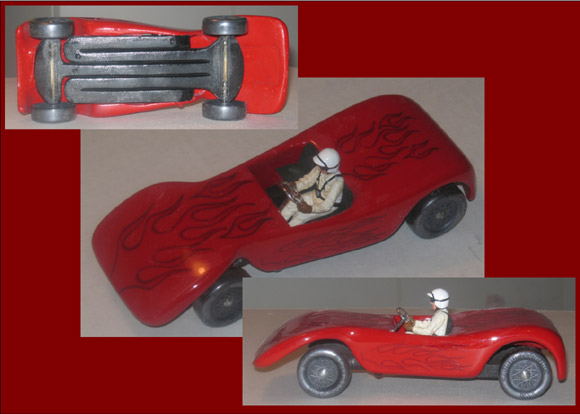 While browsing the internet I saw an interesting design for a car that involved cutting slots so that the car, in effect, had four wheel independent suspension. My son and I tried it, but the pieces of wood were too thin to be sturdy, so we opted for a front to rear version. My son also wanted a car look to it, so I cut out a car that only attaches to the frame on the sides. He did the sanding, finish and the flame decals. The car did very well in the races, but not as good as last year's car (last year's car took first in the district). Our pack has a very smooth aluminum track. More than for speed we wanted to see if we could adapt the split frame to a car body, I think it worked well and my son learned about how and why a suspension is used.

King Tut - William Beaver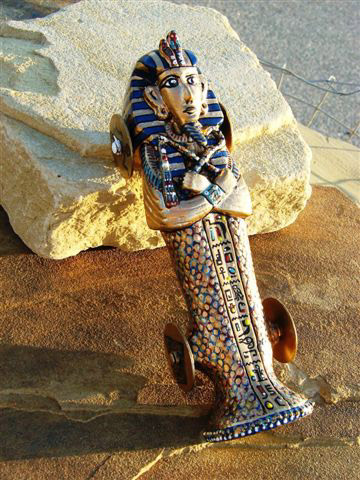 Here is the derby car my son used last year to win the Georgia State Championship for the Royal Ambassador Crusaders. He won 1st in Craftsmanship. The rules state that NO foreign materials can be added, except for paint, stains, and markers! No attachments of any kind! This made it tough, but a dremel tool is amazing. The car must be able to "run down the track." But it doesn't have to race. This car met all requirements and won Craftsmanship. If only we could have added stuff ... !
From Pinewood Derby Times Volume 6, Issue 5
Subscribe to this Free Pinewood Derby E-newsletter
(C)2013, Maximum Velocity, Inc. All rights reserved.
Maximum Velocity Pinewood Derby Car Plans and Supplies