PINEWOOD DERBY CAR SHOWCASE

Hot Dog - Ron Bosma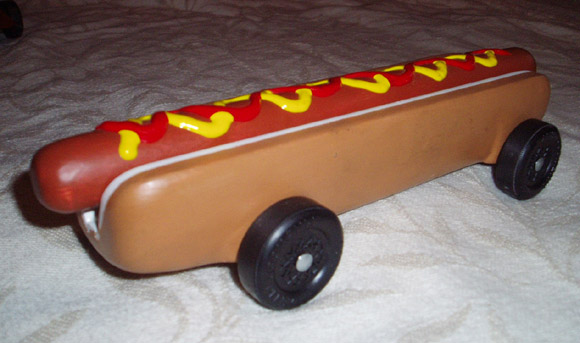 I have 2 boys who have since grown out of Cub Scouts and the pinewood derby. But for several years our family looked foreword to our annual fun. We couldn't build just 2 cars; we also had to build one each for my wife and I. This helped me get over the urge to help Alex and Greg too much with their creations.
Another leader and I always had a fun race after the boys were through. The pack would challenge each other and us until it was time to leave. Over the years we got better and better thanks to your newsletter, tools, and tips. Throughout the years we have built race cars, space shuttles, a dog car, a porcupine, and even a shark. With this hot dog car I ignored aerodynamics altogether to get a fun design. It wasn't the fastest car that year, but the kids loved it and it ran respectable times. We have a lot of great pinewood derby memories and still really enjoy reading about other peoples experiences in the Pinewood Derby Times. Thanks Maximum Velocity!
Scooby-Doo - Kyle McInerney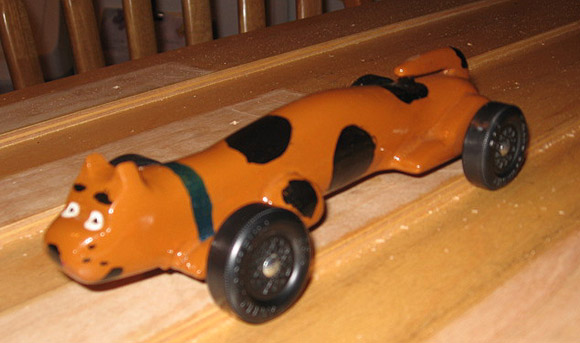 This is my son's second year Pinewood derby car. He was into Scooby-Doo more than anything. Scooby won best design and 4th out of 10 Tigers. It may not have been the fastest, but to my son it's the best car ever.
Speeder - Bob Drag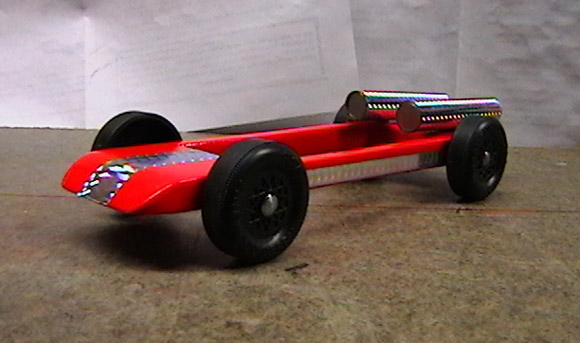 In 2006, Glenn's (my son's) car placed 3rd out of 29 Tigers. This year, I asked him what his goal would be - looks or speed. He enthusiastically chose speed - he didn't really care whether it looked good! So after researching car designs he fell in love with the look of 'The Speeder'. After numerous hours of prep work, sanding the body, axle polishing, wheel prep, and weight placement to find the optimum center of gravity - that required all of Dad's patience - we got the car put together. At the Pack race Glenn's car placed 1st out of 21 Wolves, and the icing on the cake was that he also won 1st Place for the Best Car Design. Now, we're off to the Council races!
From Pinewood Derby Times Volume 6, Issue 11
Subscribe to this Free Pinewood Derby E-newsletter
(C)2013, Maximum Velocity, Inc. All rights reserved.
Maximum Velocity Pinewood Derby Car Plans and Supplies