PINEWOOD DERBY CAR SHOWCASE
Low-Rider - Paul & Jordan Messineo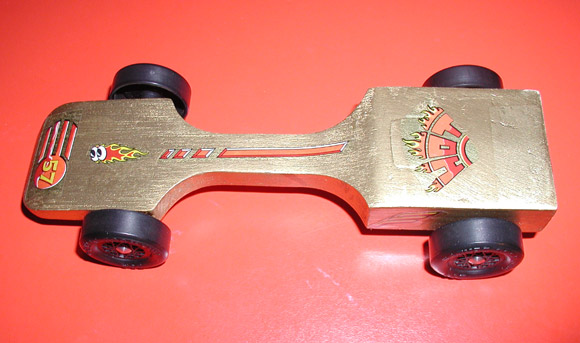 Jordan is 9 years old, and for two years he entered the Derby only to come in last each year. He went to his dad and said enough is enough; he wanted to at least be competitive. Dad enlisted grand pap and stated the problem. Papap went online and found Maximum Velocity, who helped with a lot of the details. Guess what? Jordan came in 1st out of 50 cars. That was last year, now everyone in the district was waiting for the latest entry of Jordan's. Jordan showed up with a great running Wedge car that looked like a winner. However, the rules were modified and Jordan's father did not receive the changes due to his out of town travels. The Wedge car had three wheels touching, and the rules clearly stated that all four wheels had to touch. When Jordan showed up with his father, one hour before the race they were told of the rule changes and the car was declared ineligible. Jordan was devastated and heartbroken. Papap and Dad went back home and decided to look at the other cars that Jordan had built to see if anything could be done. Jordan's brothers, Paul III and Brandon, worked on this previously built Low-Rider (with Papap and Dad) to lower the fourth wheel. With only 22 minutes remaining they completed the revision and started back to the race. They arrived with only 6 minutes remaining and checked in with the revised Low-Rider. The car was carefully checked by the officials and passed.
The race started, and low and behold Jordan finished second. This was quite an accomplishment considering the work that had to be done in order to compete. Well compete they did, what a lesson in life this taught Jordan, NEVER GIVE UP!
But the story does not end here. The following week Jordan entered the Pittsburgh Council regional event with the same car and took 1st in Webelos and 2nd overall. What a great time Jordan had in telling this story - three trophies in two weeks!
Wii - Jim, Josh & Jake Heidecker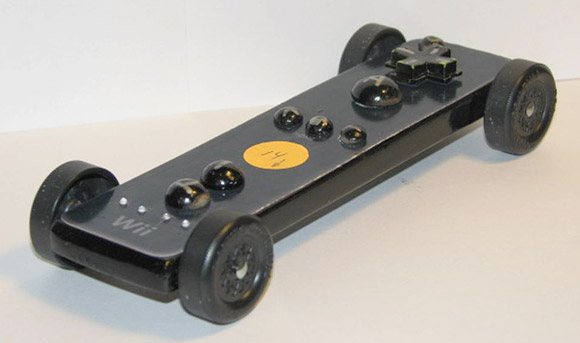 Josh (1st year Webelo) and Jake (Bear) had selected your Wing design for their car this year but were not sure how they were going to paint it. Both really wanted a Nintendo Wii game console for Christmas - when I mentioned that the controller for the game was about the same size as their pinewood derby cars, they got the inspiration for this design. With the help of the speed tips we learned from your site, Josh came in 1st and Jake came in 2nd out of 66 cars! The attached picture is Josh's car; Jake's was similar except it was white.
Dale Earnhardt's 1998 Daytona 500 Winner - James Gravely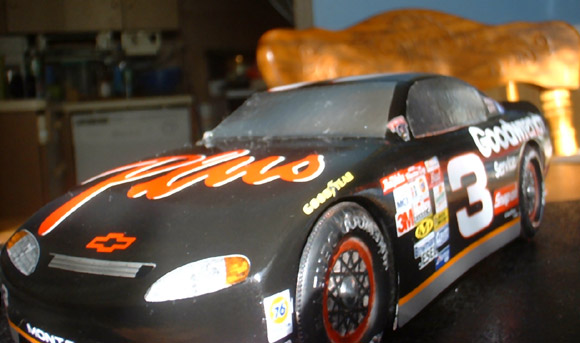 Last year was my son's last year of scouting, so my last hold on pinewood derby racing is gone! I love pinewood derby racing, and am now thinking if I want to ask my wife to have more kids. My only problem is I would have to wait five years before they could join Cub Scouts and, oh my, suppose they were girls!? Well let's just forget that idea (for now).
Anyway, while my son was in Cub Scouts, every year we came up with the most exciting concept that we could (actually I hoped my son would let me decide on the design because his were more intricate than mine, and I knew I would have great difficulty fabricating his desires).
This car is a replica of the late Dale Earnhardt's 1998 Daytona 500 winner, complete with all the correct details. The car would have been our 2007 entry if my som was still active in Cub Scouts. I built the entire car myself with no help from my son since it was not intended to be raced. The car is built to specification and is completely legal for derby racing: correct wheels, axles, weight, and size dimensions. The car is bathed in 'Racer Black' lacquer, and the decals and paint are protected by five coats of clear gloss top coat.
From Pinewood Derby Times Volume 6, Issue 15
Subscribe to this Free Pinewood Derby E-newsletter
(C)2013, Maximum Velocity, Inc. All rights reserved.
Maximum Velocity Pinewood Derby Car Plans and Supplies