PINEWOOD DERBY CAR SHOWCASE
Today's cars are from Don Brown.
In August of this year the National Sprint Car Hall of Fame and Museum
in Knoxville, Iowa held its first inaugural National Pinewood Derby
race. The rules were quite simple: 5 ounces maximum weight, must be
sprint car appearing with the wings from the Revell sprint car kit,
and must have four wheels.
I purchased three Revell kits and did some serious work to make the
cars look like a current sprint car. After the bodies were shaped,
sanded, painted and weighted, I called on my good friends at Maximum
Velocity for the best wheels and axles. The car I entered in the race
used SS needle axle wheels with the needle axle upgrade kit. I
countersunk the SS wheel to accept the bead retainers (I found out
that the race required wide wheels). The other two cars have X-Lite
needle axle wheels. After some polishing and fine tuning, the cars
ran straight and fast.
Cars showed up from all over the country for a fun afternoon of racing
at the Museum. I'm proud to say that at the end of the day our
Halibrand-sponsored, red, white and blue sprinter won the "A"-main and
was crowned National Champion.
Sprint Car 1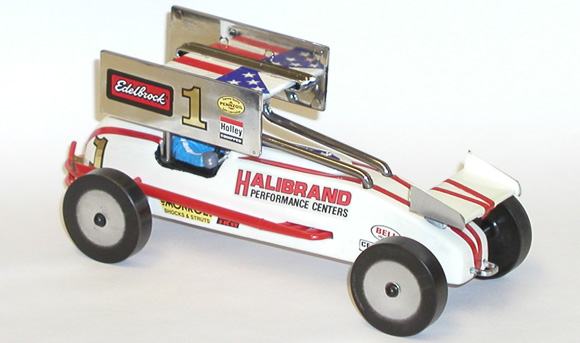 The National Champion car. Parts were added from a plastic model. I
also narrowed the car body and used metal tubes to accept the needle
axles.
Sprint Car 2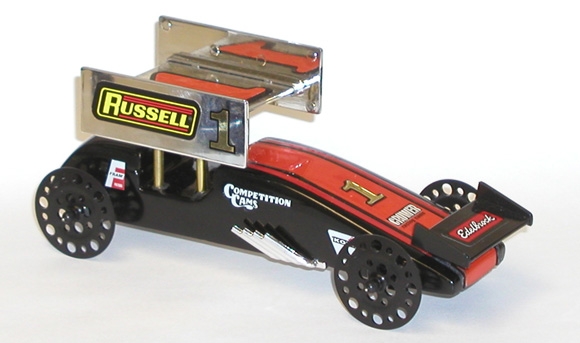 Sprint Car 3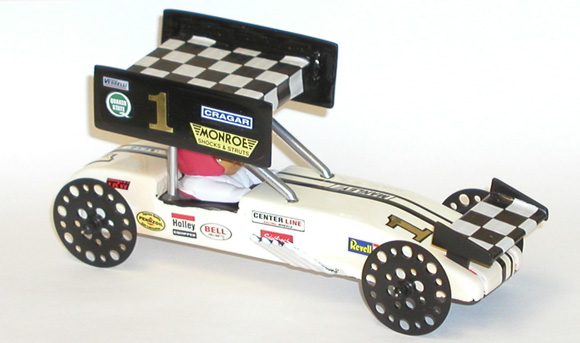 From Pinewood Derby Times Volume 13, Issue 4
Subscribe to this Free Pinewood Derby E-newsletter
(C)2013, Maximum Velocity, Inc. All rights reserved.
Maximum Velocity Pinewood Derby Car Plans and Supplies