PINEWOOD DERBY CAR SHOWCASE
Today's showcase cars are from Donald Welsh.
Pink Phantom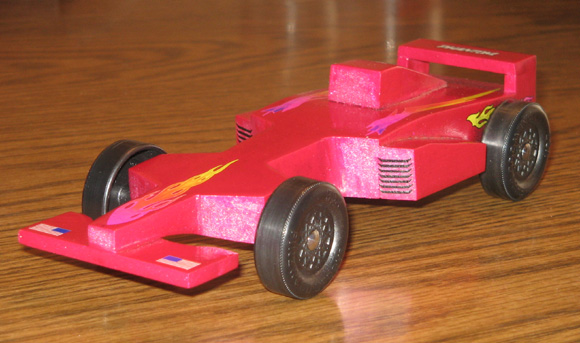 Here is the car that my daughter Laiken and I built for this year's
Awana Grand Prix. We found the Formula One design at Maximum
Velocity; my daughter liked it because it was cool looking. I was not
too surprised when she decided to paint it pink and add the colorful
decals. The car ran really well in practice and raced really well in
the derby to earn third place for speed in the TnT girls division.
This was her first time racing in the derby and she was very surprised
when they called her name at the end of the derby for her trophy.
Riddler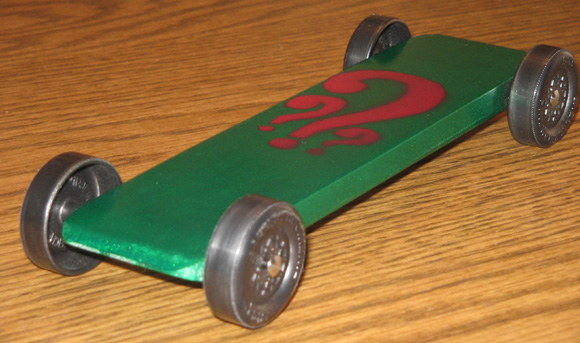 Here is the car that my son Luke and I built for this year's Awana
Grand Prix. The Riddler took second place for speed in the TnT boys
division. The car is the extended version of the Maximum Velocity Wing
design. Luke painted it green and I painted the questions marks on
using a Styrofoam plate with the cutouts. We decided to make his car a
three wheel runner, and after hours of sanding and polishing the axles
and wheels it produced really good results.
Vaccinator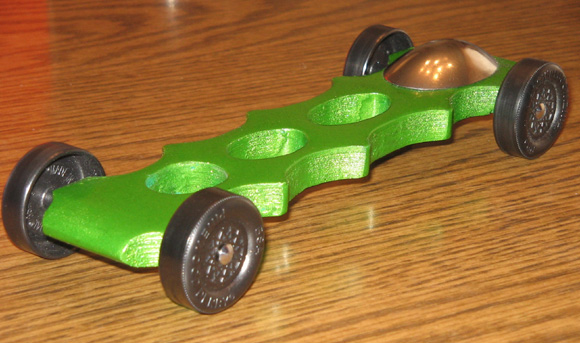 I built this Maximum Velocity Vaccinator design to race against my
children during practice. The car is very quick. Everyone at the
practice runs thought it was the coolest car they had seen and some
were worried that it would be entered in the derby. After seeing this
car on Maximum Velocity I couldn't imagine it being any other color.
The paint job is not perfect but it is a sweet car and my son said he
wants to make one for next year's derby.
From Pinewood Derby Times Volume 13, Issue 3
Subscribe to this Free Pinewood Derby E-newsletter
(C)2013, Maximum Velocity, Inc. All rights reserved.
Maximum Velocity Pinewood Derby Car Plans and Supplies