PINEWOOD DERBY CAR SHOWCASE
The Dark Menace - Mark Shipley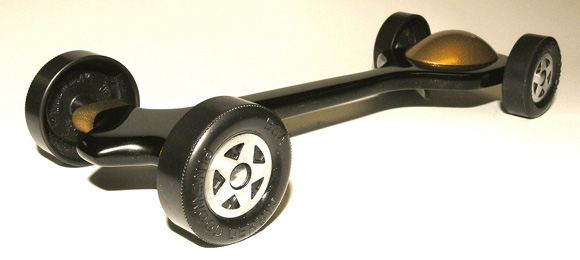 This first-time car was built by Brennan Shipley and his Dad, and won
second place in our pack races and qualified to participate in the
District races on April 2014.
1950 Studebaker Champion - Andy Holzer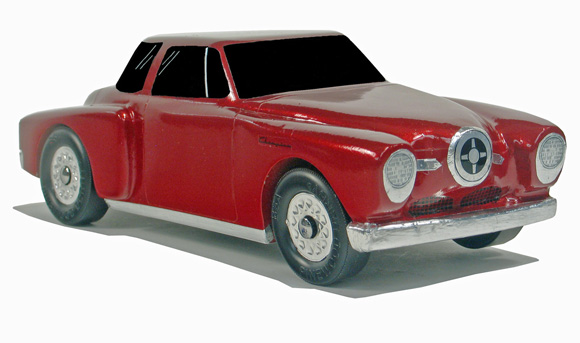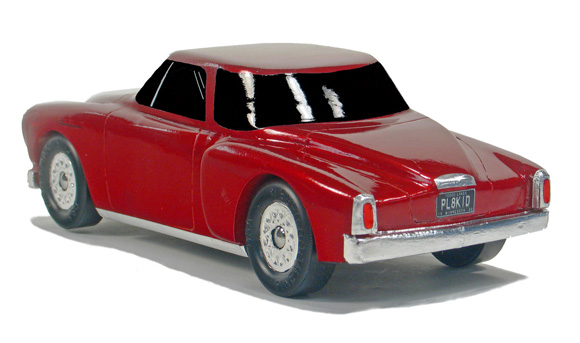 Ever since Noah's 2nd year as a Cub Scout (way back in 2007) he wanted
to make Fozzie Bear's Studebaker Commander that was featured in 'The
Muppet Movie'. He really wanted to make the version that the Electric
Mayhem re-painted to camouflage it from Doc Hopper. Now that he is 15
he realizes the difficulty of trying to paint a car to look like the
original. But he still wanted to make a Studebaker. So the decision
was made to build a Studebaker, Champion.
Noah races with the adults from his old pack; the Studebaker came in
6th place in that race. The next week, I completed my car and raced it
against Noah's car - the Studebaker was faster. I had signed up to
race in the FundRacer race with the Cub Scout Pack Noah is a den chief
for. We decided to race the Studebaker instead of my Nomad. The
Studebaker came in 4th in the FundRacer race.

1956 Chevrolet Nomad - Andy Holzer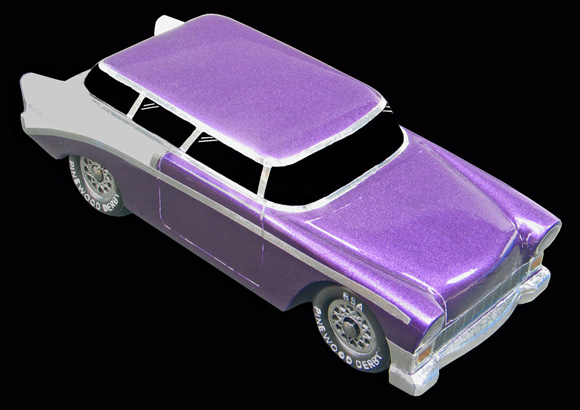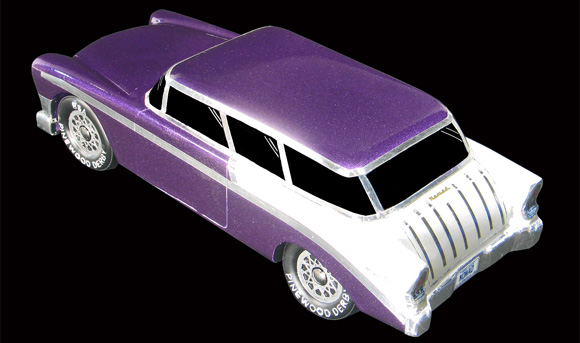 The car I built for 2014 is a Chevy Nomad wagon. In the beginning,
when I was thinking about building a Chevy wagon, I was not sure if I
wanted to build a 210 Handyman Special version, a Sedan Delivery, or a
Nomad. All I knew is it would be a two-door wagon. After looking at
some pictures of the wagons and speaking with my neighbor, it was
decided to go with the Nomad. The arched rear glass, the tilted door
posts, and the additional chrome, the Nomad was a hot rod two-door
wagon. It is still one of my favorite cars. I will have to work on the
rear alignment to see if I can get it faster!
The Spirit of '53 - Lee Klinghoffer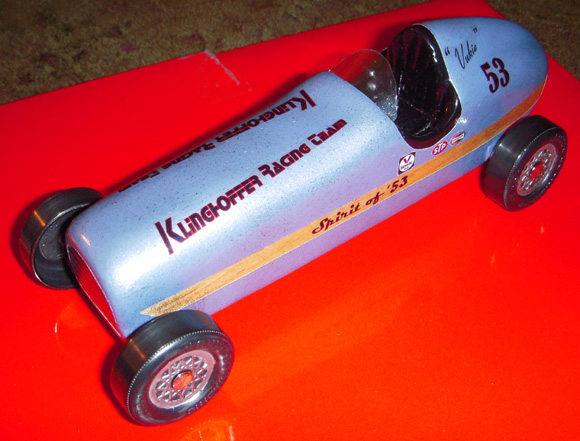 I named this year's entry "The Spirit of '53". It's a jazzed-up
replica and tribute to Don Murphy's original car design for the first
Pinewood Derby in 1953. That year, the winner of the Indianapolis 500
was Bill 'Vukie' Vukovich. This car bears his nickname just behind the
driver cockpit.
From Pinewood Derby Times Volume 13, Issue 13
Subscribe to this Free Pinewood Derby E-newsletter
(C)2014, Maximum Velocity, Inc. All rights reserved.
Maximum Velocity Pinewood Derby Car Plans and Supplies