Best Use of Numbers
Last year was our first ever Pinewood Derby. As a Tiger Scout my son had no idea what it was all about so he did not show much interest in building a car. I just wanted a car that would not end up in last place.
We first looked on the Internet for a simple design that would be easy to make. My son helped draw it out and we worked together as I showed him how to measure and make straight lines. After cutting it out he helped briefly with sanding till he got bored (around 10 seconds).
My son did all the painting as we used house paint for the body. He wanted to make some cool colored wheels so we found some model paint and he proceeded to paint the wheels and axles. After it was all dry the car would not move. So we got some new wheels and axles. He used every number sticker that came in the kit - boy he was so proud of himself. He won the "Best use of Numbers" award.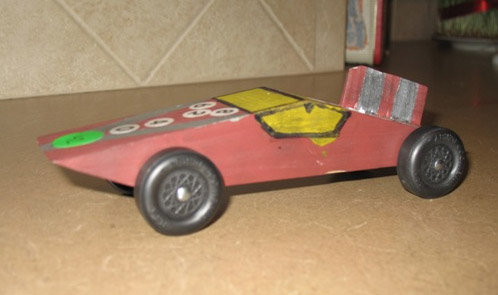 The funniest part occurred at race day. After being allowed to graphite up one more time the scouts entered one at a time with certificates and cars. My son came in looking like a raccoon as he had wiped his face with hands covered in graphite. Okay, so Dad put a bit too much graphite on the car.
My son really enjoyed cheering for all the other Tiger Cub's cars and munching on the snacks. I was happy as he took 18 out of 48 (he likes to win so he was a bit sad when he did not make the finals). So this year he put his sites on winning; I talked him into just shooting for a top-10 finish.
Jim Shryock
From Pinewood Derby Times Volume 7, Issue 10
Subscribe to this Free Pinewood Derby E-newsletter
(C)2014, Maximum Velocity, Inc. All rights reserved.
Maximum Velocity Pinewood Derby Car Plans and Supplies