PINEWOOD DERBY CAR SHOWCASE
Top Fuel Dragster - James Gravely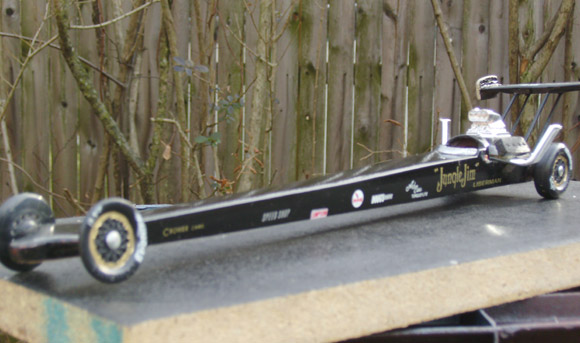 This is the product of a man with too much time on his hands. It is
constructed from two official Cub Scout PWD blocks making it 14 inches
long. Add another inch for the swept rear wing and the car tops out at
15 inches long. The wheels and axles are also official BSA parts
although extremely modified. The car weighs in at five ounces and was
built mostly for show although it will run very fast.
Show Cars - Andy Holzer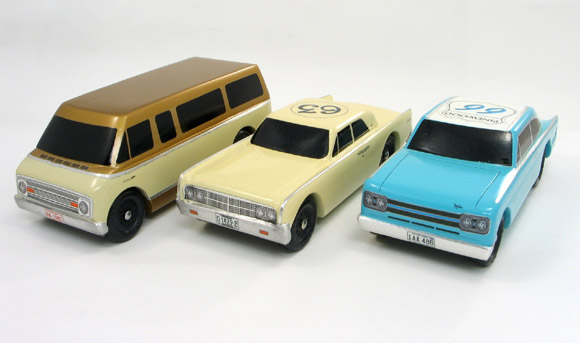 This year we decided to make copies of the three classic automobiles
we own. Noah built a 1966 AMC Marlin, I built a 1963 Lincoln
Continental and Diane built a 1974 Dodge Sportsman van. There was
trouble getting the van to the 5oz. weight limit so it never did race -
lesson to self, if you are trying to make a vehicle this big you should use
balsa. In the race, the cars ran well. Noah's car placed second in the
Bears and my car placed 1st in the parent-sibling race.
1957 Masarati 250F - Allen Cripe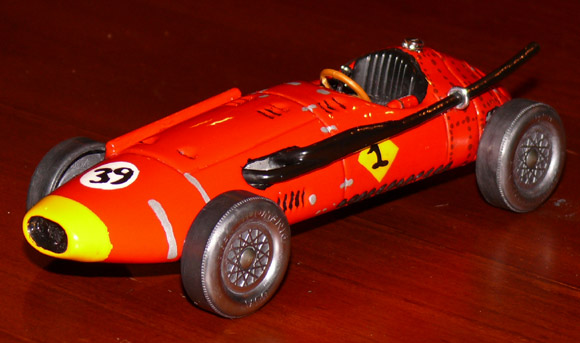 My son, who is a Tiger Cub (7 years old), and I have watched racing
together since he was born. This was his first derby. We were watching
the Speed Channel before we started the car, and saw a show on the
1957 Masarati 250F. We decided right then, that was the car.
Since it had been 32 years since I competed, I wasn't sure what the
competition was going to be like. So we decided to make "Best of
Show" our goal, and make learning what the competition was like to
improve the next year the second goal. In the end, he won "Best of
Show", and was in the top sixteen for speed!
The car has four coats of sanding filler, and four coats of base coat
(Italian Red). All of the details were then painted on. Finally, three coats
of Gloss Clear coat were applied.
We hand made the exhaust and headers out of 1/8 inch steel rod, and
buried all of the weight into the car. My son and I put tons of hours
into the car; he and I worked together on all the building. As a result, he
won "Best of Show".
From Pinewood Derby Times Volume 7, Issue 10
Subscribe to this Free Pinewood Derby E-newsletter
(C)2014, Maximum Velocity, Inc. All rights reserved.
Maximum Velocity Pinewood Derby Car Plans and Supplies