PINEWOOD DERBY CAR SHOWCASE
Herbie - Neal & Aaron Jackson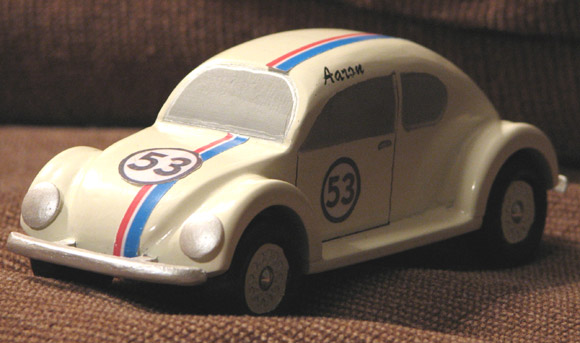 My son Aaron always liked the Disney movies that starred "Herbie the Love Bug". So, we decided to make his pinewood car into a "Herbie". We even duplicated the #53 and stripe decals to match the original. The car didn't win many races, but it sure looked good going down the track. Best of all, we had a great time making it together and he proudly displays it on a shelf in his room.
Blue Wedge - Brad Weber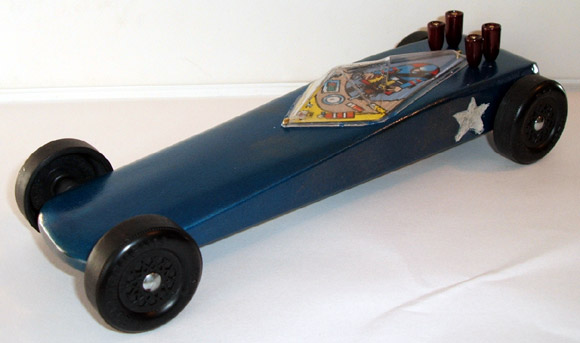 My son Hunter wanted a blue car with a white star. The red exhaust pipes are tungsten fishing weights and the body was a simple wedge. Hunter won Pack and District in 2007. He also set the track speed record for Districts! Thanks for all the info and tools that you provide. They really work!
Sprint Car - Charles Baum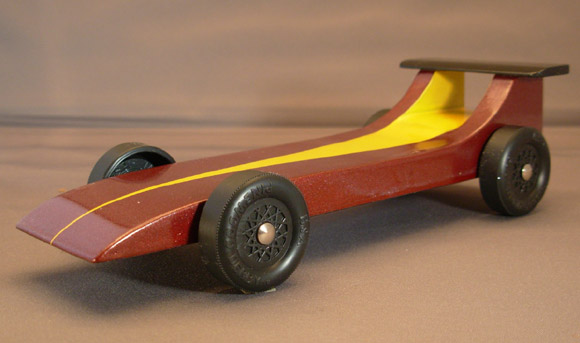 The idea for this car came from sprint cars that have high-mounted wings. The body is quite thin in order to eliminate drag. I build the cars as a hobby, as I am an adult and my son is now 23 years old. This car has been the fastest in several unofficial family/adult Cub Scout pack races that I've assisted with. I'm waiting for an adults-only race later this spring to really see how it does.
From Pinewood Derby Times Volume 7, Issue 14
Subscribe to this Free Pinewood Derby E-newsletter
(C)2014, Maximum Velocity, Inc. All rights reserved
Maximum Velocity Pinewood Derby Car Plans and Supplies