PINEWOOD DERBY CAR SHOWCASE
Camping Tent - Jack Long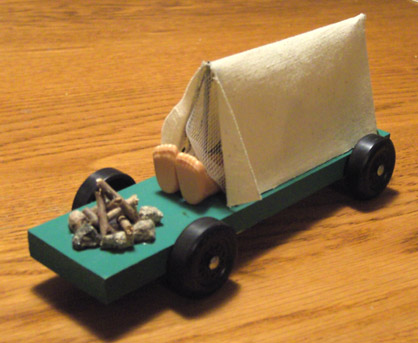 Camping Tent was a car I made just for fun for the 2006 pinewood derby. The tent is canvas, the poles are toothpicks, the feet are from a doll, and the fire has a red light bulb that lights up.
Old #25 - Robert Mareches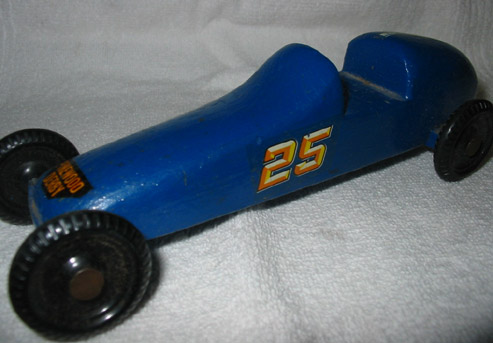 I wanted to share my car with all the fine young racers. This car is probably 40 years old. My Dad and I made this car together when I was seven or eight years old. We didn't know anything about weights or polished axles. With lots of guidance from Dad, I learned how to use a wood rasp, file, and sandpaper. The big decision was what color to paint it! He did find out that sanding the wheel diameter made it run smoother. I thought that this would be the clincher for me to win the race. Well, our car lost, but I still have fond memories of building a derby car with my Dad. The memory means more to me than winning a race; my trophy is this car. Good luck to all you fine young men in building your trophy racer.
Ghost Rider - David & Davey Sides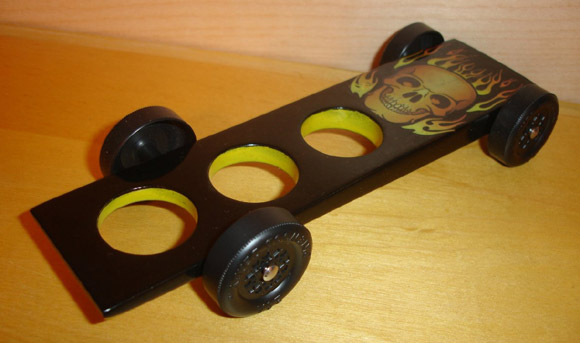 My 9 year old son, Davey, is very proud of the car we built. He is very enthusiastic about anything regarding Marvel Superheros and loves this particular character. Next year, he wants to made a "Wolverine" car.
From Pinewood Derby Times Volume 8, Issue 1
Subscribe to this Free Pinewood Derby E-newsletter
(C)2014, Maximum Velocity, Inc. All rights reserved
Maximum Velocity Pinewood Derby Car Plans and Supplies